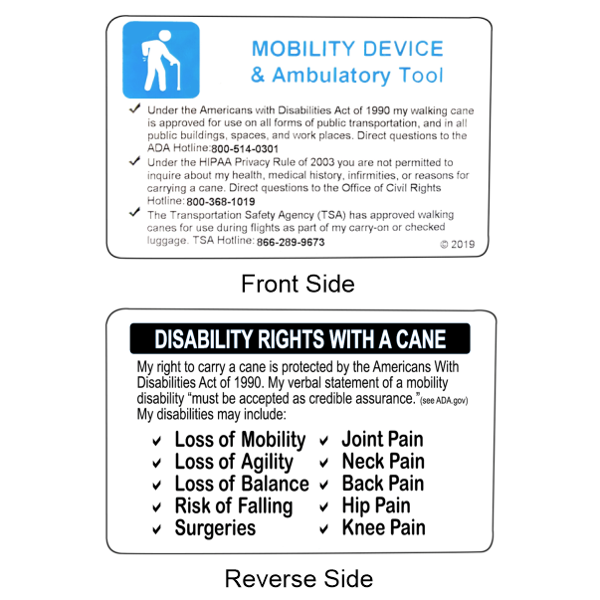 We have modified our popular Mobility Card to include Your Mobility Rights with a cane. One side Includes the 3 Federal laws that protect your rights to carry a cane without question. The opposite side includes a statement from the Americans With Disabilities Act of 1990 that insures your verbal statement of a mobility disability "must be accepted as credible assurance", as well as a list of possible mobility issues.
Our IDs are the same size as a drivers license size and incorporate advanced printing and heat lamination technology using 1 mm laminate. Our production process meets the Department of Transport quality requirements and we employ the same advances printing and lamination equipment used by many state and federal agencies.
How long does it take for my cane to be produced?
All of our canes are fully customized. It takes roughly two weeks for us to cut the cane, sand, stain and finish the cane before we get it ready to ship.
How much do the different wood types Weigh?
Weight will slightly differ from cane to cane. That being said, our canes weigh between 1.6lbs and 2.6lbs with Oak 7/8" being at the bottom of the range and Octagonal Thumper Stock Hickory and Octagonal Pure Hickory Heart being at the Heavier end of that range.
What wood type is the strongest?
We look at strength of wood types by the density of the wood. We can calculate it by looking at its specific gravity — dividing the weight of a volume of the wood by the same water volume. A higher number usually means that it is a denser and more robust wood. The number is most useful as a comparison between different species of woods.
- Hickory has a specific gravity of 0.7
- Oak has a specific gravity of between 0.63 and 0.68.
What is the benefit of a Palm Rest?
The Palm rest is a big benefit because it allows you to distribute weight throughout the cane while utilizing it. For people with a back pain, arthritis, bad knees or hips can find a lot of benefit by finding better comfort while using the cane.
Does the Octagonal cane have an Octagonal Crook?
No. The crooks on octagonal canes have a round crook.
Do you ship internationally?
Yes we ship worldwide. You will be able to find international shipping rates at checkout.
What Shipping Carriers do you offer?
UPS, USPS, FedEx, DHL.